The botanist
by Alaina Latona
Alaina is the creator of PERJUS, an art and photography magazine featuring artists from all over the world. She also works at United Talent Agency as a Senior Contracts Administrator. Alaina is a lover of all things artistic and is always pursuing a number of creative projects. Follow Alaina and PERJUS on Instagram, and check out her inspirational portfolio online.
My skincare routine has to be simple, quick, and safe. I never go to bed with makeup on, so when the time comes at night to get ready for bed, I want products that effectively get the job done so I can go to sleep. Basically, I try to buy organic and all-natural products with ingredients that actually work. I usually choose scent-free unless the product contains naturally occurring scents, and I (try to) avoid products that include alcohol as these tend to be harsh or drying on the skin. The following products are my favorite skin saviors.
I highly recommend the Urban Outfitters Petal Multi-Use Oil, which is a floral-infused body oil blended with apricot, almond oil, and Vitamin E oil. It is seriously one of the best smells I have ever smelled in my whole life. I've gone through the entire bottle but couldn't part with the remaining flowers. I currently use the jar with leftover rosebuds plus avocado oil on any "problem" areas, like my elbows and the bottom of my feet. I also had an incredibly dry scalp when I moved back to NYC and this worked wonders. I would apply it to my scalp right before I got in the shower and wash it out with dandruff shampoo/conditioner.
Now, let's talk about the Cosmedica Hydra-C Serum. I need this in my life/it is a vitamin for my face. I have been using this serum every day for four years. At this point, my face requires it. It smooths out imperfections over time and gradually gives my skin a very even look. I had cystic acne when I moved to NYC in 2012 (after living in the pure, mountain air of North Carolina for 4 years) and this was the only thing that left me scar-free. On a side note: I also discovered I had a gluten intolerance, so this serum, in combination with cutting out gluten guaranteed me clear skin for five years and counting. Your skin is not only a product of the stuff you use, but also the food you eat. The serum contains Vitamins E and C and hyaluronic acid. I use one drop on my forehead and one drop on each side of my face every night after cleansing and toning, but before moisturizing. The magnesium ascorbic phosphate works as a stable Vitamin C derivative, brightening skin tone and evening out the skin, while Vitamin E nourishes and the hyaluronic acid provides hydration.
These toners I'm about to introduce are the sh*t. I found an amazing brand, Lunasea Botanicals, on Etsy. It's based in Pennsylvania and uses all natural organic ingredients for bath and body products. I use the Balance Pore Minimizing Facial Toner in the morning after cleansing and before makeup. It's got Vitamins A, C, and E, and is extra nourishing on my skin, making it the perfect canvas before applying makeup in the morning. I use the Remedy 2% Salicylic Acid Complexion Clear Face & Body Tonic at night after cleansing and before the Hydra-C serum. Also I should say, "cleansing" for me means taking off my makeup with Garnier Micellar Water and then exfoliating with water + a bath glove. I also use L'Occitane Essential Water to clean up after using the micellar water and cleansing. It is just a nice follow-up and a quick kick of freshness after exfoliating.
I bought this Oxalis Apothecary Jasmine + Coconut Mineral Mist at a Christmas market in Nashville, TN. The aloe and coconut pulp soothe my skin and the marine minerals are extra moisturizers. It smells amazing and I use a spritz or two after I put on concealer/foundation to smooth and hydrate, and to set my makeup. I also use it in my hair to liven things up. It's refreshing! Again, it uses all-natural ingredients and it's vegan and cruelty-free.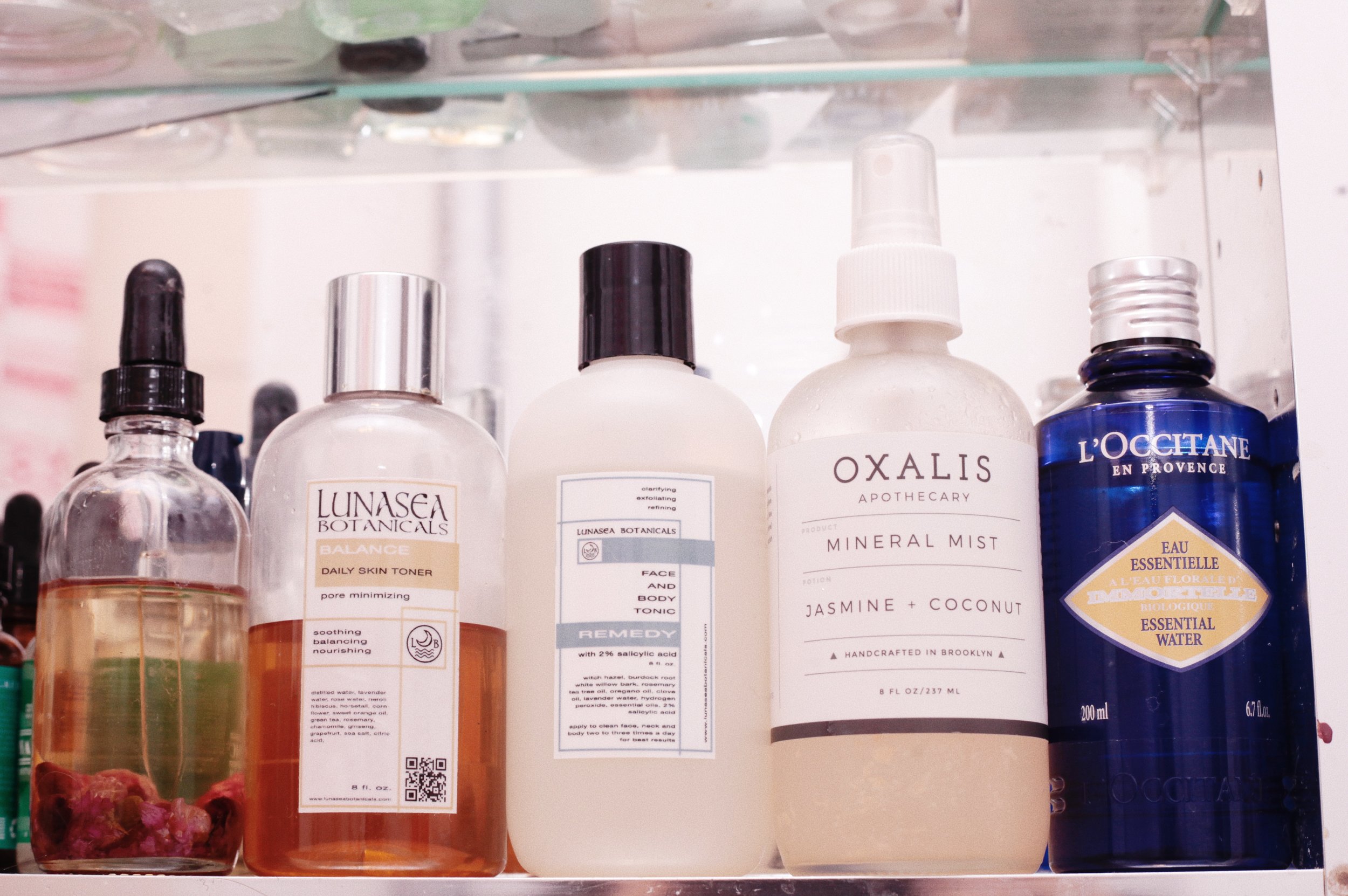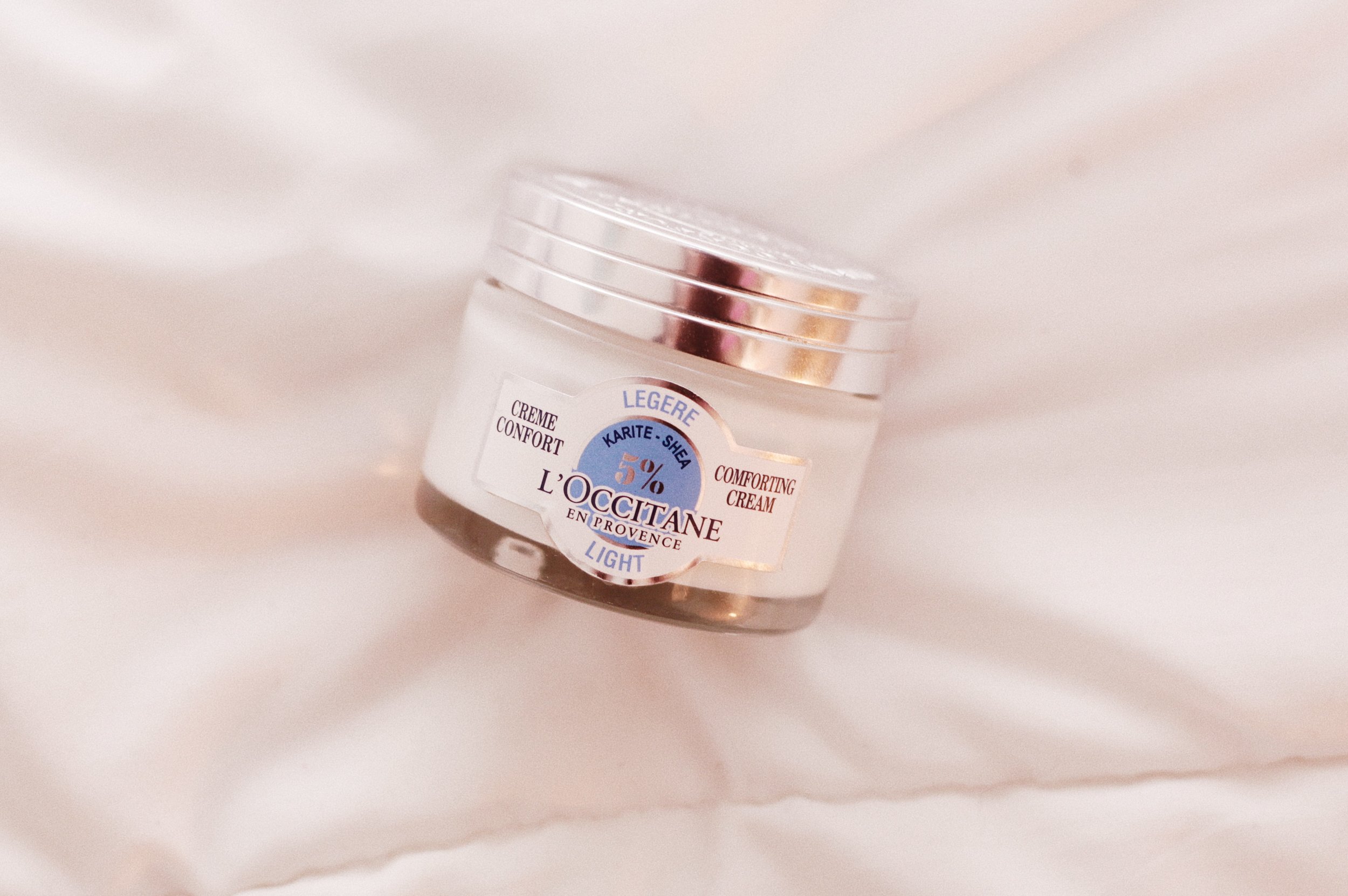 I use L'occitane Shea Butter Light Comforting Cream at night as the last thing before bed. The shea butter hydrates my face like nothing else and actually helps minimize acne by morning. It's great for sensitive skin. I love it so much! The smell is so simple and comforting, if that makes sense. It creates a great skin surface to work off of the next day.
Overall, it is important to me to know what I am putting in and on my body. If a quick Google search doesn't explain it, I wont buy it.
Photography by Alaina Latona