Face oils you should be using now
by Kate Lee
If you haven't already jumped on board the face oil train, you might as well start now. You can find just about any face oil formula that will promise to heal, nourish, moisturize, and change your skin for the better. We rounded up a few of our favorites.
Face oils are typically composed of a base or carrier oil and a mixture of other botanical oils, extracts, and/or essential oils. They can be added to your moisturizing routine on colder, dryer days or they can be subbed in for your regular moisturizer. Some may be heavier than others depending on the formulation and take some more time to soak in, while others are a wonderful base for makeup.
The line between serum and oil can sometimes be hard to draw. Our selection focused on strictly face oils, not ampoules or serums. While many face oils have taken to cult beauty status, we rounded up our favorites that deserve a place in the spotlight.
To calm red or irritated skin...
Herbivore Botanicals Lapis Face Oil, $72
Named after the lapiz lazuli stone, the oil boasts a beautiful blue color courtesy of Blue Tansy. It has a high concentration of azulene, which has powerful anti-inflammatory properties. The oil is lightweight and absorbs easily into skin. Mix a couple of drops with your sunscreen in the morning and you're good to go!
milk Makeup Sunshine Oil, $38
Made with grapeseed and avocado oil and a blend of citrus oils, this rollerball is a handy oil to use all over face and body. The fresh scent is perfect for a morning pick-me-up. It's a good beginner oil, and a mini version of this can be purchased in a set with a mini Cooling Water.
Aromatherapy and moisturizer in one...
Disciple Good Skin Oil, £28
UK-based skincare line, Disciple, was created by Psychotherapist, Charlotte Ferguson. Made with probiotics, botanical, and essential oils, Good Skin makes skincare a therapeutic ritual. The oil smells incredible. A little goes a long way and is wonderful layered with a moisturizer or simply used on its own.
A pretty bottle packed with vitamins and Omega fatty acids...
Korres Wild Rose Vitamin C Active Brightening Oil, $54
Infused with real rose petals, omega fatty acids, and vitamins A and C, this oil is not only aesthetically pleasing but soothing and nourishing to the skin. It's a silky oil that gives your skin a luminous glow. This oil smells differently from the other products in the Wild Rose line and can be quite strong for some.
A simple, multi-purpose oil...
The Ordinary 100% Cold-Pressed Virgin Marula Oil, $9.90
You can't deny the value of The Ordinary, an offshoot of parent company, Deciem, which has recently been acquired with a minority stake by Estee Lauder. This oil is a fairly good dupe for the Drunk Elephant version. Pressed from the fruit of the marula tree, this oil is luxurious, moisturizing, and hydrates the skin while delivering antioxidant fighting power.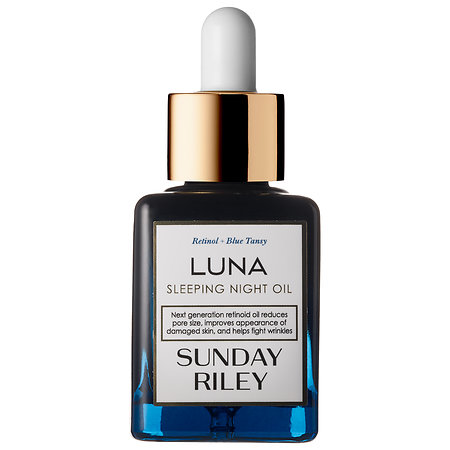 To get a gentle retinol fix...
Sunday Riley LUNA Sleeping Night Oil, $105
Definitely a hefty price tag, but this night oil does not disappoint. It also contains Blue Tansy to calm inflamed skin and delivers a trans-retinoic ester so you get a gentler retinol addition to your skincare routine. It leaves your skin feeling ultra smooth and the smell is incredibly pleasant. Pro tip: you can get a mini version of the oil with a mini Good Genes at a lower price if you buy the Power Couple Duo from Sephora.